Grimaldi Group company Finnlines' second Superstar class cargo-passenger vessel, named Finncanopus, has been launched at the China Merchants Jinling Shipyard in Weihai.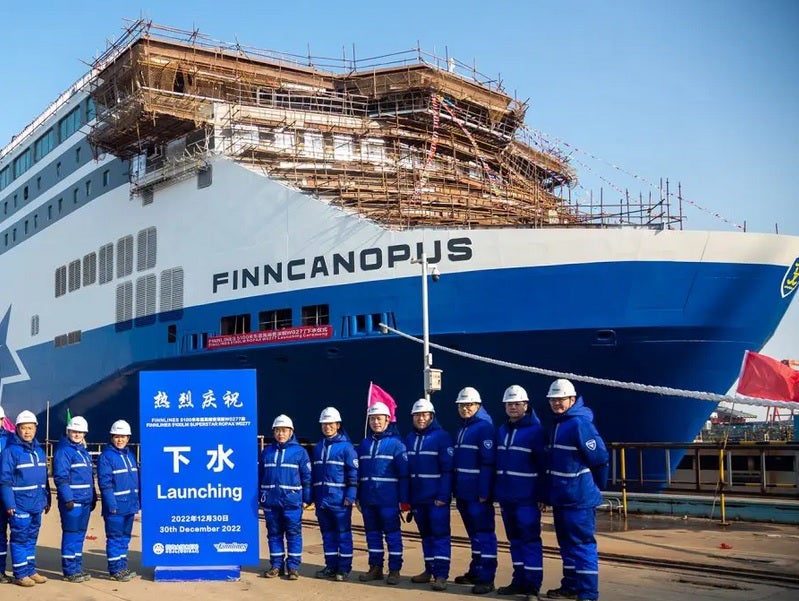 The first vessel,Finnsirious,was launched in August last year. Both the ships are part of the company's €500m investment programme.
Slated to enter service this year,the new Superstar class ro-pax vessels will operate along the Naantali–Långnäs–Kapellskär route between Finland, Åland Islands and Sweden.
Both the vessels can accommodate 1,100 passengers,while the freight capacity can be expanded from nearly 4,000 lane meters to 5,200.
Each of them have 323 passenger cabins and 64 crew cabins.
These vessels, said to be "as emission-free as possible", feature an air lubrication system that forms air bubbles to lower friction and hydrodynamic resistance.
The onshore power supply will serve as an alternative source of energy, helping avoid the use of auxiliary engines to cut down emissions and noise.
Furthermore, a high-powered battery bank will be charged in port to produce power at sea.
Finnlines president and CEO Tom Pippingsköld said: "Regular and reliable freight traffic in the Baltic Sea is the backbone of the region's economies and national security of supply.
"The maritime bridge between Finland and Sweden is one of the three connections in Finland important to trade and industry."
"Around 90% of the Finnish and Swedish exports and imports are carried seaways. Our service has been very important for our customers."
Last year in June, Finnlines took the delivery of Finneco III, its last Eco class hybrid Ro-Ro ship,from China Merchants Jinling Shipyard.